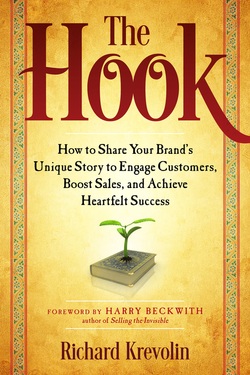 My new book on Business Narratives has been published by Career Press
and is available on AMAZON now.

It's called, THE HOOK, and the reviews and blurbs are already starting to come in.

"For a brand to make an emotional connection with its customers, story telling is essential. THE HOOK demystifies the process." -Terri Alpert, CEO of Uno Alla Volta

"I wanted to begin this quote with a glib anecdote about how I took a relatively unknown brand of washing powder and within a few years, incorporating many of the marketing and storytelling techniques of Prof. Krevolin, I transformed that brand into the number one washing powder in the world with grosses in the billions! Instead, I will just say that his teachings contained in this book are an oasis from the same old reheated poppycock present in most marketing seminars and books. Instead of relying on lists of information, his book moves like a good story—in keeping with his emphasis on narrative and storytelling. Learn from him. Enjoy his lessons. Be inspired to tap into your natural brilliance and that of your colleagues!" — Simon Clift, former President, Marketing: Home and Personal Care, Unilever

"Prof. K's passion, expertise and charismatic style of crafting deeply resonating narratives have been pivotal in unlocking love for our brands, inspiring marketers to be storytellers and build true consumer empathy. His contribution is immeasurable in both immediacy of impact and shaping the future" — Shekar Khosla, Chief Marketing Officer, Kellogg Asia Pacific and Africa.

Here's two great articles on BRAND NARRATIVES:
---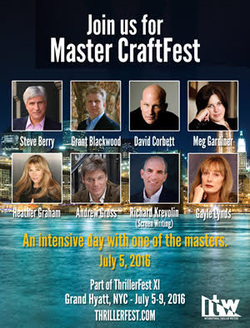 Master CraftFest is ITW's one-day intensive craft school for thriller writers of all levels and experience. This is our third year and each previous year the classes have filled quickly and a waiting list was necessary.

Don't miss out on this one-of-a-kind learning experience. Register now.

Also, this year we have added a screenwriting class to our line up. I will head this class but space is limited to 10 students.

So if screenwriting is your thing, sign up now to assure your place in this class.

www.thrillerfest.com

---
(Here's a new interview from THE BIG THRILL, the magazine of the International Thriller Writers... ENJOY.)
​

Industry Focus: Richard Kevolin
From Coffee Shop to Big Screen:
Hollywood for Writers
By
Layton Green
This month I have a special guest on International Thrills. I'd wager that all writers have at least one mentor who has impacted their careers along the way, from high school English teachers to professional editors to older writers. I have several, and one of them is Rich Krevolin, an extraordinary storyteller who has spent most of his life creating stories in various forms and imparting his wealth of knowledge to students the world over. Rich is an award-winning screenwriter, author and playwright who taught for many years in the USC film school, considered by most to be the No. 1 film school in the world. Rich has tutored more than 20,000 screenwriters and novelists, and his students have gone on to sell film scripts and TV shows to Universal, Fox, Paramount, Dreamworks SKG and numerous other big studios and production companies.
Many years ago, I signed up for one of Rich's private seminars and was blown away by the breadth of his knowledge. When I heard he was coming to ThrillerFest to teach the Masterclass on Screenwriting for Novelists, I jumped at the chance to chat with him in person and discuss his fascinating career, the art of storytelling, and the long hard road a novel has to travel to make it to the Big Screen.
Thanks for taking the time to chat, Rich. Before we get to the good stuff, the super-easy, five-step process for adapting a novel into a million-dollar screenplay, why don't you tell us a bit about yourself? How did you come to be the Buddha of Storytelling?"
As a grad student at USC, I was awarded a teaching fellowship and then I created a series of lectures that I started delivering around the country. At one of these lectures, an acquisitions editor, Paula Munier, heard me speak and told me I should write a book on writing, so I compiled my lectures and wrote my first non-fiction writing book,
Screenwriting From the Soul
. (Years later, Paula actually became my agent.) Once that came out, I was swamped with scripts and manuscripts that people were emailing me. So, in a way, I sort of stumbled into it, or you might say it was thrust upon me as a result of my love of teaching. And I kept doing it, because I enjoyed helping people and it's one of the few jobs you can do in bed in your underwear.
You're a published author, playwright and screenwriter. Do you find one path easier or harder than another?
Well, they're all pretty freaking competitive. Think about it. If you study hard and work hard and finish med school or law school, there are thousands of jobs out there for qualified people. But the arts aren't like that. Even if you get an MFA in writing, that doesn't mean you can even make a living as a writer. So, they all are difficult, but today, there are also opportunities that didn't exist before. You can self-publish, you can produce your own plays, you can make your own low-budget film based on your script. So for the person who loves it and refuses to take no for an answer, there are more options than ever. And recently, I have come to see that I have many more clients who are novelists rather than screenwriters. I think this has come about because of several factor: the spec script marketplace has dried up and there are a hell of a lot more novels published every year than TV and film projects that are produced.
What traits do you think make for a successful novelist? Do you think that same skill set transfers to screenwriting? What else might be needed?
I always tell my clients that nobody writes a perfect first draft. The main thing that separates a published author or a produced screenwriter or playwright is that a real pro is a person who knows what to edit out and what to add to that imperfect draft to make it into something better that people want to publish or produce. And the professional writer understands that there could be many, many drafts involved and that it's his or her job to take notes and to constantly revise the work.
Which aspect of screenwriting do you think novelists have the hardest time grasping?
In the most reductive sense, novelists deal with the inner lives of their characters while screenwriters must deal with their outer lives. In other words, novels are psychological, while scripts are visual. (And stage plays are dialogical.) So, the act of trying to write a script is a wonderful exercise in learning to tell a story visually and embody the golden rule of "Show me, don't tell me." As a result, I urge all my clients to try to write a script or adapt their novel into a script, because the act of doing so will make them into a better writer even if they never get their script produced.
Let's assume one is thinking ahead, at the story conception phase. What does a novelist need to keep in mind if he or she would like to see a work adapted one day?
Those novels that tend to be adapted share certain similarities. First, they are successful brands that have a following and second, they have great, fresh, unique protagonists with stories that can be produced into a TV or film series franchises.
Do certain themes, stories or genres sell better than others?
I do think we see certain themes emerge as a result of the emotional and psychological needs of today's culture. Hence, if there seems to be a lack of justice in society, I think you will see that some of the most popular stories emerging will be those that confront the theme of justice. Beyond that, I do also believe that aspiring writers need to think deeply about genres, in general. In other words, if they are considering writing a legal thriller, for example, they need to read all the best novels in that genre and have a deep understanding of what readers of that genre expect in terms of storytelling. Genres have fairly rigid rules and it's impossible to achieve success in that genre without an understanding of those rules. In addition, with a deep understanding of the rules of each genre, you come to see that you must stay within the guard rails of that genre but also push the limits of these boundaries so that your work stands out and is differentiated from all the other work in that genre.
In your opinion, what are the best ways to generate film and TV interest in one's novel? I assume mega-bestselling sales numbers is the general rule, but have you seen any other routes to success?
Yes, because producing a TV or film series is so expensive, in Hollywood today, the primary issue in terms of which novels to adapt is one that is based upon the pre-existing success of the brand. This makes sense, since successful novel series already have a large fan base that will be interested in watching the TV show or film adaptation. With that said, the best way to have a successful novel series is to have a film or TV series based upon the novel, so it becomes a sort of vicious circle. The fastest way to hurdle over the fact that maybe your novel is not a successful brand is to write a script adaptation yourself to prove to the world that it would make a good film or TV series.
Do you advise working with a film agent, entertainment attorney, or both?
Yes, like the New York publishing world, the world of Hollywood is driven by agents and lawyers so it does help to work with them. With that said, if one doesn't have either, there are still ways to make contacts and move forward without them, and then if one makes inroads, the agents and lawyers will happily appear to help seal the deal.
Let's assume one's work has been optioned. Do you think it's a good idea to try to adapt one's own work? What considerations should be made?
Yes, I recommend adapting one's own work, if you feel like you have the openness to change. What I mean by this is that yes, nobody knows more about your story than you, but due to the nature of scriptwriting, the screenwriter must be willing to combine characters, edit scenes and make massive changes to the story. Either way, as I mentioned, there is much to be learned about both novels and scripts by engaging in the process, since it will force you to understand both mediums at a much deeper level and since scriptwriting is such a highly structured form, you will be forced to become a better storyteller.
If the choice were made to adapt one's own work, where would you begin? What resources do you suggest?
Well, without this sounding a bit too much like a shameless self-serving plug, I would recommend that anybody who is interested in writing scripts and/or engaging in the process of adaptation, read my book, HOW TO ADAPT ANYTHING INTO A SCREENPLAY, which presents a five-step adaptation process.
I once heard you say that the screenwriter owes nothing to the adapted work, i.e., to the original novel?
What this means is that the adaptor must not be slavishly faithful to the original work. It is the adaptor's job to do whatever is necessary to write a good movie and if that means changing or adding or editing out elements of the original story, it must be done.
Any final advice you want to pass on to novelists with dreams of navigating the tricky waters of Hollywood?
Be bold, be daring, tell your story and as long as you keep becoming a better writer, keep writing and revising. And don't send your work out too early!
Who are your favorite screenwriters?
When I was a film student, I read some of the early scripts of Shane Black and loved them, but there are many wonderful screenwriters out there, alive and dead–Billy Wilder, Preston Sturges, Woody Allen, Aaron Sorkin, Larry David, etc.
What should we wear to our Red Carpet premiere?
I suggest wearing black since it's slimming.
It's been called a strategic tool with "irresistible power" by Harvard Business Review. And "the major business lesson of 2014" by Entrepreneur magazine. What exciting new 21st-century technology is this? The age-old art of storytelling — Read more about it at this NY TIMES link:
AND JUST DID A RADIO INTERVIEW IN LONDON ABOUT BUSINESS NARRATIVES.
CHECK IT OUT HERE...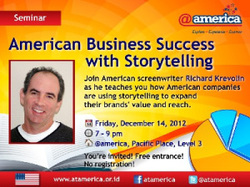 PROF. K. OFFERS YOU A NEW STORYVISION

How do innovative leaders and companies educate, inspire and sell?

They create well-crafted, emotionally moving stories that ignite real, positive transformation in companies!

THE NEW AGENDA FOR NARRATIVES –

We live in a new era when corporations can no longer just worship the bottom line of profits. Consumers and customers only want to be associated with brands that practice business with responsibility and social consciousness.

Fortunately, most companies today have both a compelling story to tell and an array of innovative, game-changing products and services that are the epitome of this new emphasis on social responsibility.

But how do you get people excited about inanimate objects? How do you create the necessary awareness of your new products and services?

You do it by telling your story well!!!

---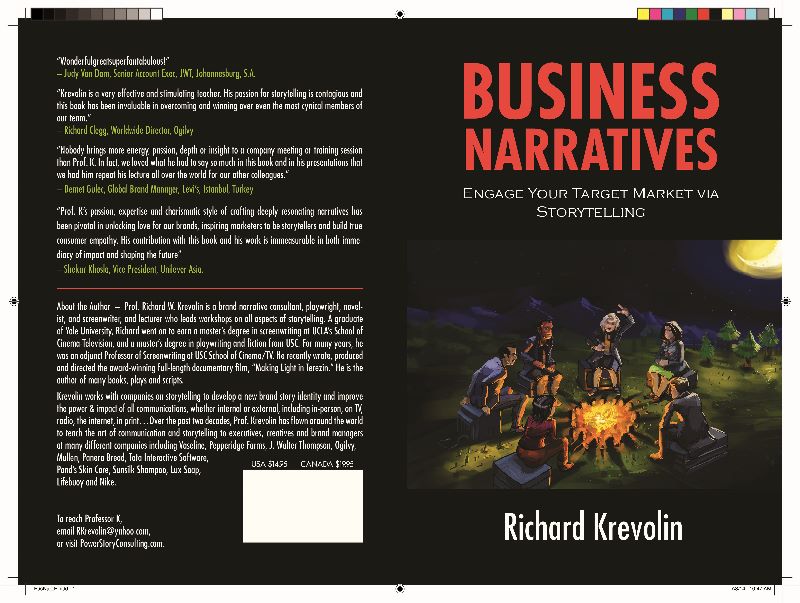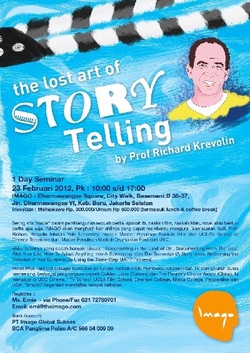 Every company today needs to both craft personal signature stories for the founders and leaders of the company, as well brand narratives that represent the essence of your brand to the world. In doing so, you can engage consumers in a way that they will remember you and leave them with a positive emotional response to you and your company.

In a nutshell, if we like you, if we care about you, we will buy from you and people like you if you tell them good stories about yourself. In a sense, it really is that simple.

And please remember, if your signature brand narrative is told well and truly embodies the DNA of your company, you will have a tool that both helps sales and also furthers the meaning and purpose of your brand both in internal and external corporate communications.

-------------------------------------------------------------------------------------------------------------------------------------

(Kathleen Grace, who's the Chief Creative Officer of Howard & Grazer's New Form Digital Studios, had this to say about storytelling in the digital era):

What digital trend is most interesting to you?

The strong growth in mobile traffic and video consumption on mobile is top of mind. It sneaks up on you, and I didn't believe it until I realized that the first ten minutes of my day are spent in my bed watching videos on my phone. However, I'm ready for the era of "views" as the only metric to be over. We have to get more sophisticated in our measurement of success. It's not enough for your audience to watch you. They should love you. Then they're more than eyeballs. They're fans.

With a nod to Twitter, describe the current digital environment in 140 characters or less.

Infinite channels. Infinite audience. Infinite potential.

What do you see as the biggest obstacles confronting content creators, brands and advertisers?

For content creators, the top challenge is capturing attention in a world with infinite content. When it comes to brands and advertisers, authentically connecting with your audience and building a real sense of community are challenging - but not insurmountable.

Do you expect we will see more branded series, or do you see brand marketing expanding elsewhere?

We'll probably see a bit of both, but eventually brands will need to find partners to help them tell stories that speak to their audience. Over time, I expect we'll see fewer "traditional" branded series. Instead, there will be and more story-driven content.

HERE IS MY TALK AT GOOGLE. ENJOY!!!

---
POWER STORY CONSULTING

Can you list the Ten Commandments in order?
or
Can you tell me the story of the life of Moses?

For most people across many different cultures, it is easier to tell the story of the life of Moses than it is to list all Ten Commandments in order…

We are story-driven creatures whose brains are hard-wired in such a way that is we naturally remember stories more than we remember lists of information.

So then, when we have an important presentation to give, why do we attempt to persuade others with a list of bulletted Powerpoint slides?

Think of your favorite teacher. How did he or she persuade and help you retain information in the classroom? I would bet that they did it through the art of storytelling.

The good news is that storytelling is driven by principles, by rules, by paradigms. Hollywood understands these rules and uses them. You should too…

Whether you are a writer, lawyer, executive or brand manager, let Power Story Consultant, Richard Krevolin, help guide you and insure that you tell the most effective, impactful story possible.

Good communication starts with good stories…

Be bold, be daring, tell power stories…

----------------------------------------------------------------------------------

And here is a little excerpt on the Golden Rule of Storytelling from another lecture...